Youth Programming
This month we were excited to launch SYEP 2021 with 320 younger youth (14-15 year olds) participating in virtual project-based learning experiences. Our project based learning is participant directed and this year our SYEP youth have chosen to focus on social justice issues that they as youth leaders feel should be amplified. Such issues include: Environmental Justice, Police Brutality and Intimidation, LGBTQIA issues, Women's Rights Issues (Domestic Violence, Human Trafficking, Cat-calling, Sexual Abuse), and issues regarding race, with a specific focus on the Black Lives Matter and stopping hate against AAPI movements. SYEP 2021 also engaged 400 older youth (16-21 year olds) who are placed at worksites throughout Brooklyn – including hospitals, camps, daycares, and local businesses. The program will run for 6 weeks and the participants will earn $15/hour for 25 hours of work per week – providing needed income to youth in our community and preparing them for the workforce. Additionally, our Summer Rising youth programs are underway at seven sites, with a total youth enrollment of 1,435. Summer Rising prepares students to return to in-person learning in the fall by addressing their learning gaps and socio-emotional needs as they recover from the pandemic and its aftermath.
MORE ON OUR YOUTH PROGRAMMING
Community Services Program
Our incredible CFLSP VITA tax team was honored on July 14th at the 
VITA /TCE 
(Volunteer Income Tax Assistance & Tax Counseling for the Elderly) 
Partner 5th Annual Filing Season Recognition Ceremony.
 The Zoom event was organized by Stakeholder Partnerships, Education and Communication (SPEC), and included several members of the IRS Senior Leadership Team. Our team filed a total of 3,279 returns, resulting in refunds totaling $5.7 million for our community. We are grateful to our staff for their incredible efforts in our community this tax season. Further, we were thrilled to receive an award from the Department of Community Affairs that will enable us to support families to enroll in the Child Tax Credit program. This initiative will be launching in late summer and we are honored to be asked to play a part in connecting eligible families to much needed financial resources. 
MORE ON OUR COMMUNITY SERVICES PROGRAM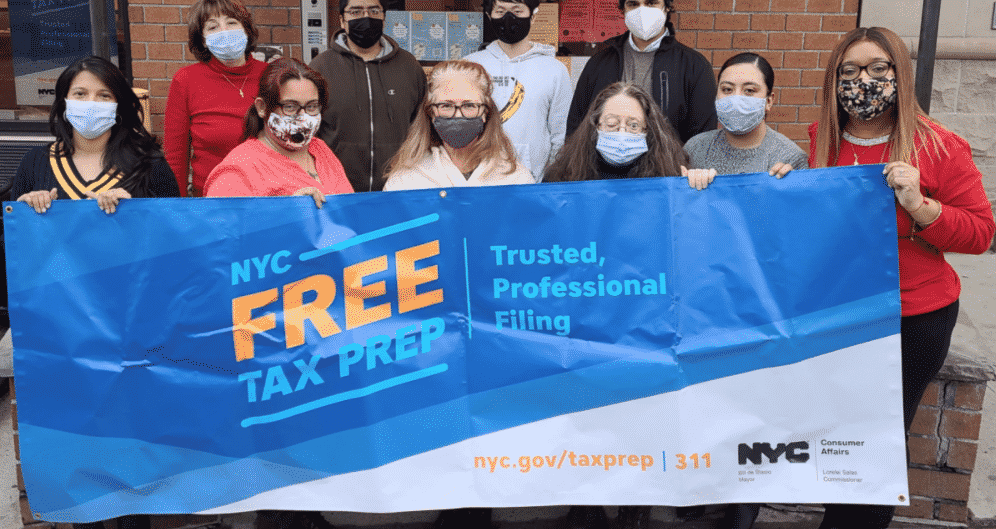 Cooperative Development Program
As we closed Fiscal Year 2021 on June 30th, we are proud to report that our Cooperative Development Program provided 263+ technical assistance services to 5 worker-owned cooperative businesses, and two nonprofit organizations that support immigrant workers in NYC, such as helping define annual sales goals and expense budgets, helping prepare finance documentation needed to file annual taxes, and developing marketing strategy for cooperatives. We are also proud to report that in the last year, we trained 32 new cooperative business developers, representing 17 community organizations across the USA, and facilitated 25 trainings for worker-owners of cooperative businesses with 405+ participants total. Our team is small but mighty and their impact is truly great! Lastly, we started the incubation of the 5th Brightly Cleaning Cooperative in NYC, with the participation of 19 immigrant women becoming empowered as business owners. We expect that this newest member of the Brightly family will be able to accept its first cleaning contracts early in 2022.
MORE ON OUR COOPERATIVE DEVELOPMENT PROGRAM
Family Counseling Program
Our Family Counseling Program continues to provide Family Counseling, Family Support & Preventive Services, Immigrant Trauma-Informed Counseling, Individual & Couples Therapy, Know Your Rights Workshops, and the Sanctuary Families Program for supporting families at risk of immigration detention or deportation. This July, we were able to distribute $100,000 of cash relief to 100 of the most vulnerable local families in need. The emergency relief funds were provided by the Mayor's Office of Economic Opportunity, RFCUNY, and Mayor's Office of Immigrant Affairs (MOIA). Thus far in 2021 we've also provided a total of $47,350 of rent relief funds to 30 families. This is in addition to the $75,000 in rent relief we distributed to 53 families in 2020. These funds are a crucial step in maintaining housing stability for families impacted by pandemic-related job or income losses.
MORE ON OUR FAMILY COUNSELING PROGRAM
Our staff have distributed face masks (~2,600) and information flyers (~700) daily on COVID-19 health and safety best practices to Food Pantry and other CFLSP clients. Since May, Chinese-speaking staff have also distributed face masks (including children's masks) and flyers along 8th Avenue in Sunset Park. CFLSP Directors and Parent Coordinators at local schools receive weekly updates on COVID-19 testing sites, vaccine information, and other resources to share with staff, clients, and parents. 
MORE ON OUR TEST & TRACE PROGRAM