While the holidays are meant to be a time of giving, joy and celebration amongst family and friends, they can also be a source of great stress. Many of our clients at Center for Family Life in Sunset Park do not have enough income to buy holiday gifts for their families. Instead, they must decide whether to celebrate the holidays or to be able to provide basic necessities for their families like rent or groceries.
In our third holiday season with the COVID-19 pandemic, our clients continue to deal with its lasting effects including long term financial hardship from job loss and extended illness. In addition, Sunset Park has seen the recent arrival of migrant families from Central and South America who are living in shelters and overcrowded apartments and do not have the financial means to obtain basic necessities, let alone purchase holiday gifts.
To combat these challenges, we have witnessed an outpouring of kindness and support by our community to help others to celebrate the holidays. We are so grateful for everyone that has contributed to making this a holiday season of celebration and happiness!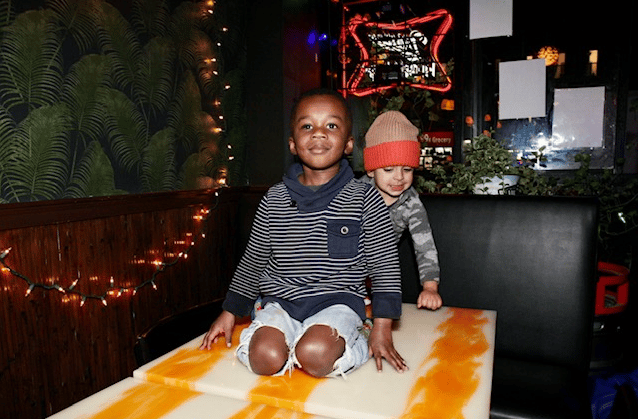 This holiday season, many individuals have reached out to us to offer their help to supply gifts to the clients we serve!
One of Sunset Park's local establishments, Minnie's Bar, hosted a weeklong toy drive to support clients in our Family Counseling Program. In collaboration with teachers from Sunset Park High School, this toy drive produced numerous bags of toys and allowed Sunset Park locals and visitors to come together in celebration of community and the holiday season! Our Co-Director of Family Counseling, Jen Wittlin, attended the drive to thank those that donated and to speak further about our Family Counseling Program and the clients we serve.
We also received nearly 100 items including socks, gloves, hats, toys and gift cards from a giving tree that was organized by employees of Webster Bank! These items were delivered to our clients before the holidays, allowing them to celebrate with their families without the financial burden of purchasing gifts.
CFLSP's Family Counseling Program created an Amazon Wish List with gifts that people could purchase for our families. We received generous monetary donations to allow us to purchase these items as well as had many of our supporters purchase gifts directly. St. Michael's Church also donated toys to our Family Counseling Program, which was organized by a former staff member of CFLSP. In addition, one of our Board members donated a generous supply of children's books!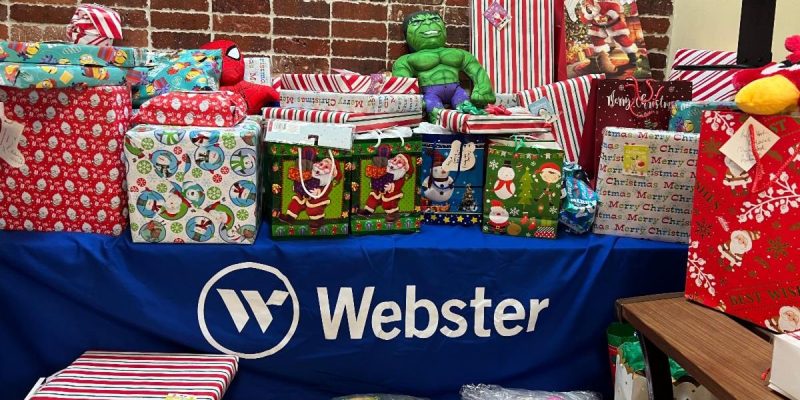 One of our case planners shared a personal anecdote about her client that received gifts from CFLSP as well as our holiday package, provided by our food pantry. This client shared how emotional and thankful she was to be able to provide a gift for her son to open on Christmas. This woman, who is a survivor of intimate partner violence and spent last Christmas at a shelter, celebrated the holiday at her own home with her son and mother this year. Our case planner described this mom as being "resilient and strong," while expressing how grateful she is "that CFL can make this happen for many more families in similar situations" this holiday season!
Jen Wittlin also shared an experience she had when 3 mothers with 4 children came to the office asking for gifts for their children. These mothers had come to CFLSP in the past to receive assistance as newly arrived migrants. These mothers knew that they could seek help here at Center for Family Life, which is why they chose to return. We were able to provide the mothers with gifts for their children, who were so thankful to give them toys to play with. Jen said how this is an example of "what a grounding force CFL is in the community" and shows how people "feel supported here" knowing "we will be there for them."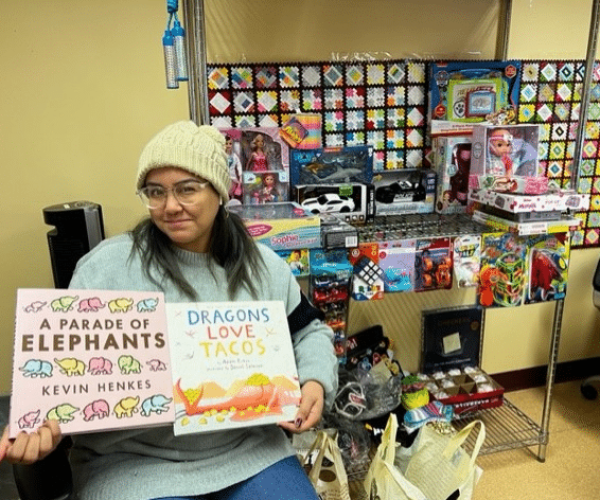 Thank you to those who made all of this possible and who allowed those in our community to celebrate with loved ones! We are grateful for everyone who contributed to our holiday appeal whether it be through monetary donations or through direct gift giving. With your support, our Adult Employment Program and Family Counseling Program were able to provide gifts to 105 families with 210 children for the holidays! We are proud and excited to continue to serve our community in the new year.
From all of us at Center for Family Life in Sunset Park, we wish you a Happy New Year!